NGA Outstanding Governance Winners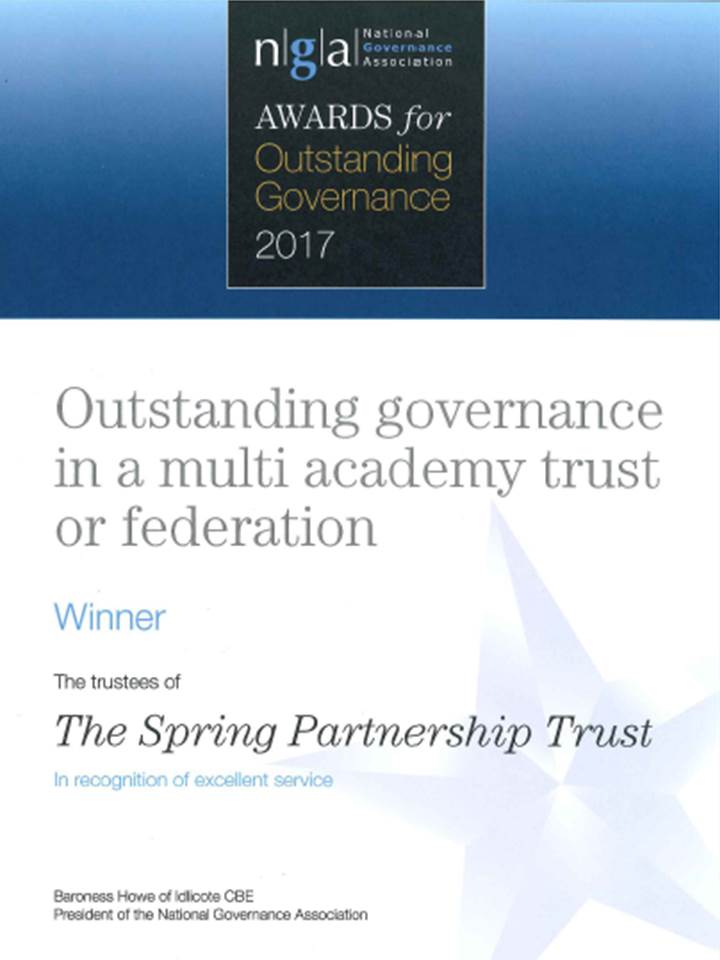 The Spring Partnership Trust is proud to have been awarded The NGA Outstanding Governance in a Multi Academy Trust or Federation having been chosen from a large number of nominees. The NGS made the following comments about The Spring Partnership Trust.
An outward looking and self reflective trust board that takes strategic planning seriously. Trustees believe that collaboration through supporting others is the best way to develop and maintain excellence. After consultation, the directors decided to set an ambitious strategy focussed on improving and growing a group of schools - exploiting the opportunities of the group model to develop staff and help other local children. Even though the trust is relatively young, trustees have used their experience of setting up a MAT to build staff capability and learn from others. They have developed new methods to use and evaluate pupil premium funding, leading to the Pupil Premium Award in 2016. The trustees are committed to reviewing their own practice and ensuring that the future of the board is not compromised by being too reliant on one or two individuals

National Governance Association
The Outstanding Governance in a Multi Academy Trust or Federation is awarded where governance has: improved significantly over time, successfully overcome challenging circumstances or financial difficulties, successfully led a specific change that had an impact on the school, contributed to improvement in the wider schools sector and/or used governance structure in an innovative way that has improved the work of the board.